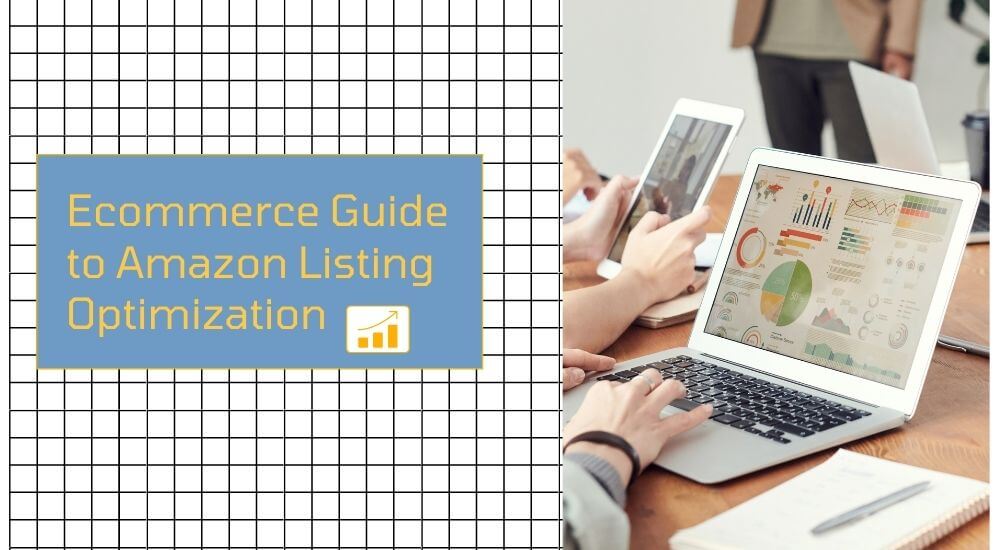 Have you ever wondered why some products surface in Amazon's regular searches, while others are barely visible? Or why do some product listings appear to generate many sales while others get a few clicks?
In many cases, the difference between a successful Amazon brand and one that fails is Amazon listing optimization.
What is the definition of an Amazon listing? What does it mean to optimize it, exactly?
An Amazon product listing, also known as a product page, is a page on Amazon's platform that provides customers with all of the information they require for a certain product. Product photographs and videos, brand-created promotional content, a product description, technical specifications, questions and answers, and customer reviews appear on the product page. The Buy Box is prominently displayed on the product page.
The practice of refining your Amazon listing content, reviews, advertising strategy, and product exposure to enhance traffic and conversion is known as Amazon listing optimization. This doesn't have to be a difficult procedure; if a customer can find your product, recognize it, comprehend what it is and does, and see themselves using it, you've done your job.
What are the benefits of optimizing your Amazon listings?
The answer is simple: you must improve your product listings if you want to sell your product on Amazon. Customers can't touch, smell, read, or see the product in person; therefore, eCommerce isn't the same as in-person purchasing. Product listings optimized allow you to duplicate the retail experience for online customers, ensuring that they have all of the information they need to make a purchase. These listings make your goods stand out while also ensuring that your brand message is constant.
Furthermore, Amazon sells over 350 million things, generating a near-endless supply of competition. Even if you have a fantastic product, you won't have much luck selling it if customers can't find it. Goods listings that are optimized assist your customers in finding your product amidst a sea of competitors and eventually making the buy choice.
Where does optimized content fit into the consumer decision-making process?
We can't talk about the necessity of Amazon listing optimization without also talking about the buyer's journey. The consumer decision journey describes the process that customers go through while determining which product to buy.
Suppose you want a customer's journey to end with a purchase of your goods. In that case, there are four eCommerce factors you must master as a seller: availability, findability, conversion, and post-purchase. Every phase of the process involves listing optimization, which we'll cover in detail below.
Availability
When you decide to optimize your Amazon listings, the first thing you should think about is availability. There are two main factors to consider regarding the significance of availability in listing optimization: inventory availability and Buy Box ownership. Nothing else matters if your product listing is suppressed due to a lack of stock or the loss of the Buy Box.
Inventory availability is self-explanatory: your products must always be in stock for your Amazon listing to stay rated and visible. Surprisingly, many merchants overlook the importance of keeping products in stock and managing inventory flow. However, if you stock out on Amazon, you will lose your Amazon sales ranking, damaging your credibility and making it difficult to find your product.
Winning the Buy Box is another component of availability. Multiple Amazon sellers often sell the same goods, but only one vendor can own the Buy Box at a time and get sales. Owning the Buy Box as a seller is one of the most effective strategies to reduce returns and customer discontent. Customers who purchase a product through your storefront are more likely to view the content you want to show them than content from other vendors if you own the Buy Box. Customers generally only see the product listing material of the vendor who owns the Buy Box, with a few exceptions.
Findability
You've finished the first step of Amazon listing optimization if your products are in stock and you've won the Buy Box. The next stage is to ensure that your customers can locate your listings, known as findability. Your organic and paid presence are both important in terms of discoverability.
Explained, when a buyer searches for a term on Amazon, Amazon displays the products with the highest sales volume for that phrase. Amazon wants to give customers a wonderful shopping experience, so it's relying on past success. If you're going to concentrate on your organic presence, make sure you're ranking for the important terms that your product represents to your customers.
The first step in getting your product to rank in keyword searches is to ensure that you're using essential keywords in your product descriptions. Whether or not you use Amazon SEO has a significant impact on how easily your products may be found. The most crucial component is your product title, which should include your target keywords. Your target keywords should also appear in your bullet points, description, backend keywords, picture alternate text, and A+ content.
Advertising makes up the other half of discoverability. It's vital to develop an advertising plan that makes use of all of Amazon's ad alternatives.
Conversion
Your next goal is conversion once you've attracted visitors to your product detail page, either organically or through advertising campaigns. It's time to pivot if your advertising strategy is generating a lot of clicks but few sales. It's possible that your listing optimization strategy will need to modify to evaluate the keywords you're targeting or what customers see on your product detail page.
Aside from a disconnect in advertising strategies, your product description page is the most critical component in conversion. This page, as we mentioned earlier, is brimming with content possibilities. The content on the product detail page is divided into two sections: above-the-fold and below-the-fold.
The above-the-fold content, which contains your title, bullet points, and picture stack, is the most critical for conversion. If you're going to spend time on your product detail page, it's preferable to focus on the content that appears above the fold. "Users do scroll, but only if what's above the fold is intriguing enough," according to a Nielsen Norman Group study.
Treat your photos like bullet points when deciding on an image stack strategy: make sure they address the product's key idea while being understandable. Your main image should be obvious and specific to your product, and your other photos should be used to market the product to the consumer in a very straightforward manner.
Every position in your stack should be filled, and your photographs should be high-quality and professional. Include lifestyle shots of your products in use, use the finest possible angles of your goods, and include actual people in your shots. Avoid cramming too much information into your photos, employing redundant photos, and employing difficult-to-read fonts.
You can use your product title and bullet points to include relevant keywords to your target market. To achieve this effectively, you must understand your product and what your target audiences are looking for. The keywords you think are the most relevant to your product aren't always the ones that are the most relevant to your customers.
You have more freedom to express yourself as a brand and to go deeper into the product below the fold. You can narrow the gap using below-the-fold content if your buyer is 90% sold on your product based on above-the-fold material. The product description, A+ content, supplementary videos, and customer ratings and reviews can all be found here.
When it comes to improving your product listing page, customer reviews are crucial. Before making a purchase, nearly 95% of shoppers examine online reviews. These reviews are also a great way to get feedback from customers and enhance your product. You can use these features in your above-the-fold material if you notice recurrent features that your clients love.
Post-purchase
Although it may come as a surprise, Amazon listing optimization does not end at conversion.
Keeping your listings optimized requires a high level of customer happiness. You want your clients to have a positive experience with your products and your seller storefront. Your product reviews reflect this knowledge. That's why it's critical to assess evaluations regularly, make required product adjustments, and answer all customer care issues and concerns as swiftly and professionally as possible.
Repeat customers are a solid indicator of a healthy post-purchase process. Purchase behavior is linked to and crucial—how frequently do your customers buy your products? Because things ship swiftly and easily, options like Amazon Subscribe & Save help enhance customer happiness.
Steps to take next
As you can see, improving your Amazon product listings entails much more than simply writing good text for your listing page. Your listing pages will attract visitors and generate conversion if you can ensure that your product is constantly in stock, regularly win the Buy Box, drive traffic to your product detail pages, develop content that converts, and provide a great post-purchase experience your consumers.
Our Service :