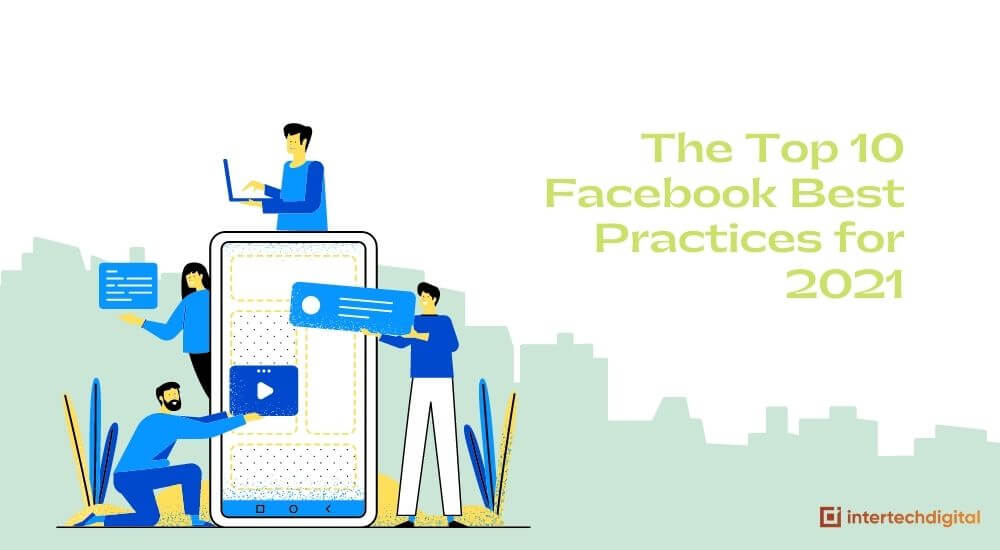 Facebook has been available to the general public for nearly fifteen years, and it has forever changed the nature of social media. Multiple social competitors, such as Twitter, Instagram, Snapchat, Vine, Tik Tok, Google+, and others, have risen in that period. The list of Facebook best practices has had to adapt with each new addition to the market to match the expectations of shifting features and audiences.
Despite this, Facebook is the undisputed king of social media, with 2.80 billion active users and a significant generator of the social media-related industry. So, despite experts' claims that Facebook is "no longer cool," the numbers speak for themselves. This means that if you don't optimize your brand marketing for Facebook as part of your social media plan, you're simply hurting yourself.
Make sure your images are the right size.
Consider sending a coworker only 60% of an email or starting a narrative three chapters in with no prior information. This is what it's like to post photographs that aren't the right size on Facebook. You're only displaying the information that a typical Facebook user would see while scrolling through their feed, with the remainder hidden. Additionally, when dealing with smaller visuals, incorrectly scaled photos result in reduced quality, such as pixelation.
Image sizes recommended for optimum display on Facebook are specific, and adapting your visual material to these standards will ensure the highest levels of interaction possible.
Facebook Image Sizes That Work:
Profile Picture: 400 x 400 px
Business Page Cover Photo: 1200 x 674 px
Event Cover Photo: 1920 x 1005 px
Group Cover Photo: 1920 x 1005 px
Photo Post: 1200 x 630 px
Story Post: 1200 x 445 px
Carousel Ad: 1080 x 1080 px
Single Image Ad: 1200 x 628 px
Catalog Image: 1080 x 1080 px
Pose questions to your audience.
Facebook is a collaborative platform. Every day, we check in with the hope of sharing and receiving information about other people's lives. We all want to be a part of something, and Facebook's ultimate goal is to be that connective thread for the world. I know; it's a bit deep.
As a business, it's critical to leverage your audience's need to feel connected, and asking questions is a great approach to do just that. These types of queries can range from product development queries to fun small weather-related opinion queries. Here are some suggestions if you don't know where to begin:
What's your favorite _______
Which colors do you prefer on the ______ product?
Which product is your favorite?
When you were a child, what was your dream career?
Increase the frequency of your everyday posts.
You won't notice any meaningful benefits to your business if you only post on your brand page occasionally or not at all, but what if you do the opposite? On the other side, posting frequently might be detrimental to brand engagement because you risk oversaturating your audience with the material. This will either cause more critical content to get buried in the shuffle or will annoy your readers to the point of alienation.
What is the best posting limit for enhancing engagement with your audience in 2021 if posting too little or too much are the extremes? There is no clear and definitive answer because it is dependent on the number of followers you currently have and the type of business you are in:
The previous rule of thumb for the number of postings per day was one to two, but this rule doesn't apply to all organizations. If you run a news-based page, it's better to post more content because news is constantly updated and changing. However, if your brand is focused on selling shoes, how many postings about your shoes do you believe your followers need to view each day? You'll eventually run out of ideas to write about, and your audience will become bored with you if you keep recycling old content.
There are a few general conclusions to consider:
Move away from lunchtime: Similar to Instagram, weekday mornings and afternoons see the most posting, but they don't have anything to show for it in terms of engagement. To determine if you can catch your followers outside of work, try a few early morning or late night Facebook posts.
Try publishing on weekends: Brands are reporting higher-than-average engagement rates on Facebook on weekends, especially when they post outside of the 10 a.m. to 4 p.m. timeframe.
Aside from that, the optimal times to publish on Facebook are unique to your company and Page's past performance. This information can be accessible in the Insights section of your Facebook Page. What you go to the Insights section and pick "posts," you'll get a breakdown chart that provides average post traffic throughout the day so you can figure out when the best times are to post.
Create a video strategy.
Using images in your social media post lineup isn't enough. You're missing out on a tremendous marketing opportunity if you use photographs and not video to portray the power of your brand on Facebook.
Here are some recommended practices to follow if you're just getting started with your video strategy for Facebook in 2021:
For longer videos, make a short intro trailer: Before scrolling on, not everyone has minutes to figure out what you're trying to say in your video. A three- to five-second entrance video that grabs your viewers is the ideal method to keep them on the leash for the useful content you're delivering.
Please don't make it too long: Nobody has time to watch a thirty-minute rant on your company, product, or issue while scrolling through Facebook. To convey your point, keep your video length between one and five minutes.
Use the correct aspect ratio: Facebook has an optimal video aspect ratio, just like it has an optimal image aspect ratio. When releasing content on this social channel, use a 4:5 aspect ratio.
Your audience should reward you with the engagement and clicks you seek if you follow these best practices and keep your video content fresh.
Use Facebook's resources to your advantage.
I linked to the Facebook for Creators resource in the previous best practice. You can find many how-to guides, case studies, recommendations, and best practices on Facebook. Who better to ask for advice on how to use Facebook than the platform's creators?
This resource was designed as a method for Facebook to compete with Google's YouTube platform for video domination. So, why not take advantage of their competitive nature?
At the very least, browse through their "Get Started" Page to assist you in developing your brand as a major player in the video content development space. Keep in mind that this approach will bring your page along with the path to being a video makers page, so if that isn't your main goal, skip some of the stages that lead in that route. You're more likely to use this resource to develop new content and marketing ideas for your company than to utilize it to become the next big internet influencer or commentator.
Make use of hashtags.
Although hashtags have been around on Facebook since 2015, the extent to which they are used on the website has been a surprise until lately. I don't recall ever putting them on a Facebook best practices list. In 2020, like Instagram, Facebook began emphasizing the value of hashtags for promoting interaction by incorporating post data for particular hashtags.
According to Social Media Today, Facebook has started displaying the most popular hashtags as they are typed into the status bar. For brands to keep on top of and capitalize on trending subjects, this tool is essential. Riding the coattails of a hot issue is a terrific method to increase visibility, and sprinkling pertinent hashtags in your posts are the perfect method to do it.
Of course, there's always the danger of having too much of a good thing, and hashtags are no exception. So, what is the best number to use? Post Planner's Scott Ayer polled the experts and discovered that one to two hashtags per post resulted in the most engagement. Following the second hashtag, interaction dwindled steadily. So, unlike Instagram, where many hashtags seem to be rewarded, the norm on Facebook is one to two.
Check the status of your Facebook business page.
This is the simplest method to set your business apart from all of the imitators hoping to ride your coattails to social media fame. Verifying your page is much more than just getting a small blue checkmark next to your page name. A Page verification tells your viewers that your company is the real deal, whereas the competition is just a copycat.
The greatest part is that validating your page is simple and only takes a few minutes to get you on your way to obtaining the coveted blue checkmark. After you've completed those steps, you'll need to finish another set. You must request a badge from Facebook and provide the following documentation and assets to complete this process:
Photo identification is required (Driver's license, passport, national identification card)
If your page is for a business, choose one of the following: Documents such as a phone bill, a utility bill, a certificate of formation, articles of incorporation, or tax exemption certificates.
URLs to your company's website that demonstrate your importance
Once you've submitted this information to Facebook, they'll decide whether or not your page deserves a blue checkmark.
Respond to the messages on your page.
Your Facebook page is more than simply a gigantic digital billboard on which you can scream your story into the ether. It's a way for you to connect with your audience and better understand their wants, needs, and reactions to your business. This is one of the simplest Facebook best practices to implement right now, but it will demand ongoing attention to respond to all of your messages. Responding to messages on your page is a great approach to get to know your audience on a more personal level.
I can even attest to the effectiveness of a response from a brand's Facebook page from personal experience. I've made it a point to visit firms that have responded to my concerns via Facebook messaging, especially in a quick manner. Facebook will put a badge on your page indicating that you are very responsive. That final section is extremely significant because if you have:
A response rate of 90% or above is required.
In less than 15 minutes, you will receive a response.
Increase the number of people who see your most popular posts.
What if the popularity contest could last a little longer? Boosting popular articles is a terrific way to double down on interaction, and the good news is that it's a relatively inexpensive approach to get your content in front of more people. Rather than relying on Facebook's algorithm to increase organic reach, you pay to get your content seen by more people. This is the only one of the Facebook best practices on this list that will necessitate a monetary commitment to the platform.
When it comes to boosting your posts, you pick the budget you're comfortable with, with a daily minimum of $1. The days of Facebook's tremendous organic reach are passed. Everything is pay-to-play, but this system is both inexpensive and straightforward to set up.
Just be Honest.
Insincere and manufactured marketing is quickly detected by Millennials and Generation Z. Rather, these generations support brands that encourage honesty, political participation, business responsibility, and genuine customer connection.
Relatable and candid material is an easy approach to connect with your audience, especially a younger audience. This includes using Facebook live and Stories features to share personalized information about your company, such as employee highlights, production methods, point-of-view videos of events, and AMA (ask me anything) postings.
However, releasing a few videos and tales isn't enough. When writing this type of content, the tone is crucial, so relax and be yourself (or selves). A relaxed tone and self-awareness go a long way.
Our Service: