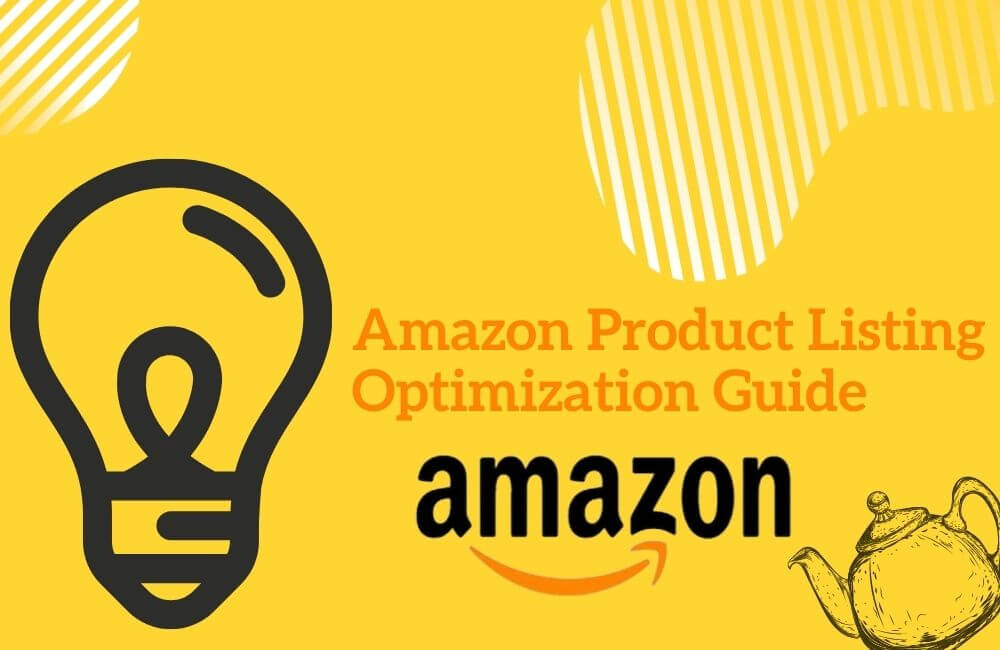 On Amazon, 95% of product lists are incorrectly set up.
Reading this article can boost your Amazon product's revenue by 300% and the listing's total conversions by 500%.
This is a fairly comprehensive reference. So take some notes, or enjoy the ride while running alongside your product listing page and making edits as you go
BACKGROUND INFORMATION
When we say optimized, we're referring to two things:
Optimized in comparison to Amazon's algorithm for the right keywords.
To maximize the number of visitors who convert, the site was optimized with the right copy and images.
Everyone forgets that the people who buy your stuff are behind Amazon's algorithm. If you're entirely new to this concept, start by learning about the A9 algorithm. It's a method of sorting items and providing the most important to potential customers at the most basic level. You have no hope of being noticed by the right people if your product page doesn't include the right keywords. If you have a fantastic listing that is keyword-optimized for Amazon.
People would not purchase!
No one will buy your items if your listing page is a shambles. – What a shock.
While this seems self-evident, you'd be shocked how many sellers create a listing and compete on two main elements.
But, for the time being, keep in mind that we're not just referring to getting higher rankings in Amazon's search engine when we talk about optimization. Instead, we're debating how to make a more profitable product in general.
The Secret To Building A Successful Amazon Business Is Simple:
Create a Fantastic Product.
Optimize an Amazon listing
Ranking of your Amazon listing.
Three measures, but it's a lot easier to say than to do. On-page optimization is the first step in any efficient Amazon SEO campaign.
On-Page Search Engine Optimization
HOW TO OPTIMIZE YOUR AMAZON LISTING
Make your listing appealing to the eye.
This is known as the glance-able evaluation. Is it possible for someone who sees your listing for 5 seconds to figure out precisely what you're selling, or at the very least find it "interesting"? If they do, you've successfully passed the first examination. If they don't, it's clear that you've failed. It shouldn't take a lot of concentration or in-depth reading to figure out what you're selling. If necessary, enlist the assistance of family and friends.
Simple, Efficient, and Unmistakable.
1. RESPONSIVENESS TO MOBILE AND TABLET DEVICES
Making sure a product looks nice on non-desktop devices is one of the most important aspects of a successful outcome. TIME reported in 2015 that more people now shop on Amazon using their smartphones than their computers. That was back in 2015, so it's not shocking. The numbers have been even more distorted.
All of this comes down to one thing: optimize the listings for mobile-first. The same is true for blogs.
Fortunately, Amazon is mobile-optimized, so as long as the listing looks good on desktops, it will look good on mobiles as well. When making significant changes to your listing, remember to double- and triple-check it.
The Biggest Amazon Mistake
So, what is Amazon's biggest blunder? There are two of them.
The first is believing that simply launching a product would result in sales. We see this all the time, which is why so many Amazon sellers are losing money. It's the same reason why 95% of companies fail within the first five years.
The second is making no effort and focusing solely on costs.
There is no way that Amazon is a price market. They're a focused marketplace with a set price. Do not go to Amazon unless you have a competitive price for your particular product. We can solve the barriers between cost and profitability if you do and can market yourself in a specific way.
However, simply lowering your price to the point that your margins are less than 10% is precarious. Guess what happens if you run into financial or cash flow problems or if Amazon raises their rates. You've lost a lot of cash. It's a gamble.
You may also believe that this is just a temporary fix. Regrettably, this isn't the case. Customers have a price expectation. They will not be loyal customers if the price is not delivered. Customers who are dedicated to you are the ones who help you make a lot of money.
But you should have a general idea of what's going on by now. A listing's style should be highlighted. Following that, we'll discuss keyword analysis. In particular, user intent.
2. START WITH THE INTENT OF THE USER.
People are sluggish. They want to make choices right away. They don't want to sift through a slew of statistics and features to determine which product offers the best value.
90% of people don't read Amazon listings fully. I'd say it's probably close to 100 percent in a lot of cases.
Another interesting fact: 90% of people would not completely comprehend the statistic when they first read it!
People want to make decisions as quickly as possible. They want the first product they choose to be a good fit so they can get on with their day. Don't give them any reason to doubt it!
"This product appears to be cool," says the consumer, who then proceeds to press, order, and arrive. Alternatively, "I don't like this title or picture," and the item is returned to the search results, never to be seen again. That's what there is to it.
As previously said, we must pass the glance test. After that, we have about 30 seconds to persuade the potential consumer that this is the right product for them.
So, what really happened?
That single sentence was the first thing that set Google apart from the competition. The algorithm's quality is determined by the user's purpose. While Amazon is still a long way behind Google in terms of user intent metrics built into the algorithm, they are making progress. Big profits equate a more applicable algorithm (Google proves that). So, here's a short section that, if you completely comprehend, will ensure that you are a good Amazon seller for years to come.
The Amazon Algorithm
To comprehend the algorithm, you must first comprehend Amazon's CORE metric. "Money for them!" exclaims the narrator.
This means that if you make more money for Amazon, they will rate you higher, and so on. If you pay them less, they will rate you lower, and you will earn less.
Ninja Tip #1: Amazon Sales Based on Keywords.
So far, we've discussed how to nail user intent and make money on Amazon. Most likely not the most "aha" moment you've ever heard.
However, there is a ninja trick to do this.
It's referred to as "keyword-based Amazon sales."
This is something we believe we invented because it hasn't been discussed anywhere else on the internet. It came about as a result of extensive research, innovative thinking, and a basic understanding of how algorithms work.
Ninja Tip #2:  Amazon Choice Technique
Do you want to know how to earn the Amazon Preference badge?
Unfortunately, we have opted not to provide this segment because it provides much too much of a strategic advantage for us and our clients to reveal for free. If you'd like to learn more about this strategy, please contact us or consider becoming one of our partners. This entails us taking over your entire Amazon seller central account and treating it as though it were our own, resulting in incredible increases in rank and benefit.
But let's return to user purpose for a moment.
The primary objective of the glance test is to gain the person's attention for the next 30 seconds. We'll be one step closer to a sale if we can do that.
Nearly all buyers make a decision in the next 30 seconds based on the following information:
We can convert 90% of users if we can accurately smash this detail. Even if our bullet points and definition were completely incomprehensible. This is something we'll discuss later.
As a geek, this is one of my favorite next steps.
Amazon Keyword Research
Keyword analysis for Amazon is very similar to Google keyword research. We use MerchantWords or Helium10 instead of the Google keyword planner or a platform like Ahrefs. There are others on the market, but we think these are the most user-friendly. This includes recognizing a variety of flaws that are relatively apparent but that many people overlook.
Using a tool like MerchantWords simplifies the method, but your seed group of keywords must be flawless. The majority of the time, this would be self-evident. However, if you lack in that area, Google Keyword Planner is a great place to start.
We'll be able to move on to the next level, which is market analysis, once we've completed our keyword study.
Analyze the Competition
The phrase "competition analysis" refers to the process of deciding how good such keyword rankings are. While the data we'll use comes from Junglescout, which isn't always reliable, it gives us a good idea of what works and what's a waste of time to aim.
It's easy to get a sense of what's going with Jungle scout. We have to enter one of our keywords from the previous technique and activate the Chrome extension. Following that, we'll see a lot of income and monthly sales figures. As well as information based on ratings, the seller's sort (FBA or Merchant), and a slew of other helpful information.
This demonstrates how simple it is to obtain solid, semi-reliable information about what goods are selling. One of Junglescout's flaws is that it isn't 100 per cent reliable, and some of the data is based on guesswork. You would, of course, know the number of your monthly sales if you market your goods. When you compare this to JS, you will see if it is that true or if it isn't.
Regardless, even though it isn't wholly correct, it gives us a clear idea of profitability.
3. BULLET POINTS
Where you SELL, your product is inside the bullet points of an Amazon product catalog. You don't need to repeat the information that the title already contains. This is the segment that people look at if they're on the fence about buying something or looking for a particular benefit that the product must have. We can see how some of the industry's major players build a listing by looking at their websites.
In these bullet points, we can see the main elements of marketing and effect. Starting with a million or more (social proof) and adding great feedback (even more social proof) is a very successful Amazon marketing strategy.
Then we get into the product's basic features and specific information. People are fascinated by small data. It takes 10 hours to completely recharge. I'm capable of XYZ. Then there's what you get from the product, which is 100% clean. With a decent mix of copy and keywords, it's very concise and straightforward. That's just what we're looking for.
Amazon Bullet Points: How to Write Them
Make use of concise, effective language.
Include social evidence all over the place.
Discuss the product's distinct advantages and functionality. THIS IS WHAT WE DO. This is the outcome you get.
When it comes to technical information, you'll get: this, this, and this.
What is it for, or who is it for – Connect with the viewer right away – This is designed to keep the technology going while you're on the move.
Add a PDF of how the product functions as an extra buying benefit/product. If applicable, a warranty or video guide will be given.
4. TERMS OF SEARCH
The search terms segment is only visible in the listings' backend. There is a lot of discussion about this part, but it doesn't need to be that complicated.
Type your primary keywords in this section, one per line. If we were selling speakers, we would say something like this:
That's what there is to it. Remember not just to enter keywords that people are currently looking for but also to modify them if you discover, for example, that specific keywords convert much better than others during your PPC campaign. Remember to vary the keywords in your search terms. Don't just put the same thing in the same place, but with connectors.
5. CHECKLIST FOR AMAZON PRODUCT TITLE OPTIMIZATION
The title of your listing is the single most crucial TEXT element. This is the first thing tourists, searchers, and Amazon can see, and it can immediately tell them what your product is about. However, we must ensure that it is written correctly. To "win the click" of the customer, use key keyword elements and good copy. When you begin writing your names, go over the checklist below.
What is the best way to write an Amazon title?
To help break up keywords and boost readability, use pipes (|) and dashes (-).
Use longer tail variations to implement primary keywords.
Connectors should be included (words that go before or after the exact primary keyword)
Make the direct benefits explicit in the form of a keyword.
Other features and secondary uses of the commodity should be added.
Include every product's USPs.
There is a limit of 200 characters. (Amazon, on the other hand, is still changing this.)
First, write for the user, then for the algorithm.
6. DESCRIPTION OF THE PRODUCT
You say your story in your summary. If they get to the summary, they're probably on the verge of buying your product but aren't sure. For people selling goods worth $100 or more, the definition is crucial.
As previously stated, Amazon is a price-driven marketplace. So, if you're selling higher-end items, you'll want to use your title, bullet points, and definition to position them correctly. The company's tale should be told in summary. Why are you asking such a high price for this? Persuade the end consumer that what you're offering is better than the competition. They would not pay a premium for a commodity if you cannot persuade them.
We enjoy using many keywords in the title and bullet points that may or may not be necessary. We haven't been able to incorporate secondary keywords or connectors into the content. The description checklist can be found below.
How to Write a Listing Description for Amazon
Tell your story of how and why your business came to be.
USP – The brand's ongoing USP – Why should they remain loyal to you in the future?
A lot of information about the product – secondary features and advantages, and don't forget to include a few keywords.
Remember to include a call to action in your description; if you don't, you won't be able to sell your product.
Guarantees – You should mention guarantees and discounts at the bottom of your list anyway because you must give refunds to your customers, so it's a good idea to remind them that they have this choice.
7. LISTING IMAGE OPTIMIZATION
The majority of Amazon sellers make mistakes with their photos.
Fortunately, it isn't the most difficult to learn. If you have a small product, all you need is an excellent little tool. If you're looking for some professional product photography, direct them to this section to read before the shoot. Essentially, there are two alternatives. You can get some good ideas by simply typing "photoshoot package" into Amazon.
The Crucial Elements of Amazon Image Success
Make sure the picture of the product has a white background.
Make sure the product images are big enough to zoom in on. On the longhand, Amazon suggests at least 1260, but preferably 2560.
BENEFITS should be included in the product description itself. for example.
Include a custom graphic demonstrating the product's softness.
Have a tagline that emphasizes the product's longevity.
This is because 90% of consumers do not read the entire listing before making a purchase decision. Many people rely solely on the price, photos, and reviews for their knowledge. So we need to persuade somebody to buy in these three sections.
8. KEEP IN MIND THAT THE COPY IS KING. SECOND, OPTIMIZATION!
Ironically, someone who earns a mid-six-figure income solely from optimizing ads, listings, and websites says copy is more critical than optimization, but it's true!
Many Amazon sellers overlook essential marketing and copywriting concepts when creating their listings. This is critical. And if we have a lot of organic exposure, we want to make sure that our guests buy the product from us instead of going to another result or choosing a rival.
You will succeed in getting people to see your listing if you stuff it with keywords to the point that it makes no sense, but it's improbable that any of them will buy. In that context, the most critical part of making an Amazon listing is balancing keyword optimization and good old-fashioned copywriting.
In general, we have a list of six primary elements that should be included in any Amazon listing. If you can accomplish all of these, the visitor-to-consumer conversion rate would increase from 1 in 10 to 1 in 5. When this is converted to top-line sales, you can see that the effect is nearly doubling.