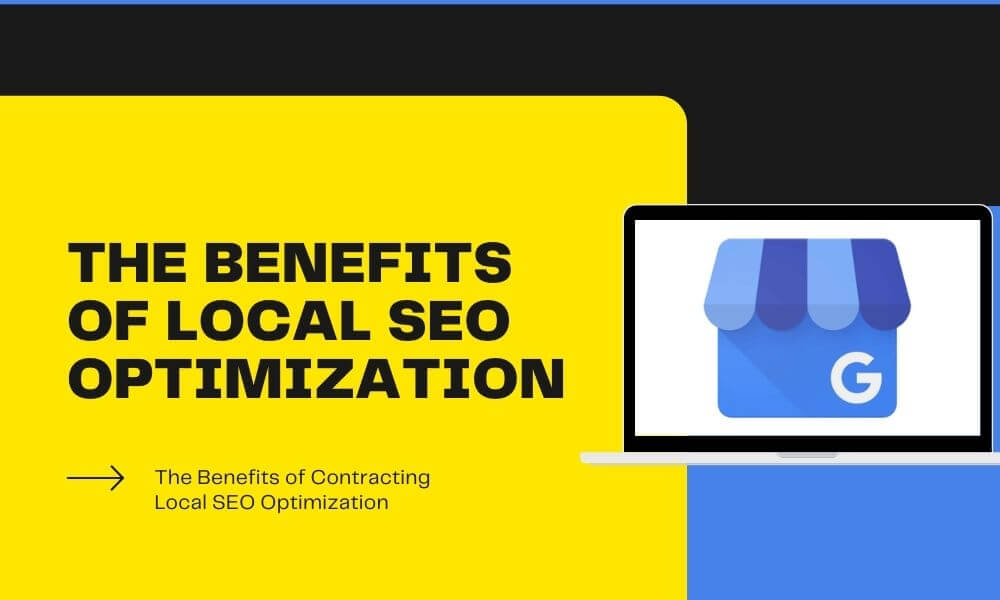 All local firms have the same goal: to capture as much of the local market as possible. Optimizing your website with established local SEO tactics is one approach to help your business appear higher in local searches.
Small, local businesses frequently overestimate their audience, missing out on a significant amount of local business. This is because they concentrate on a more generic message and overlook the significance of addressing specifically a local audience's specific requirements.
Small firms that focus their marketing efforts on a local audience have a lot of room to develop.
To capture a significant portion of the local market, you must improve your website and other digital presence so that when consumers search for things like "best hamburger in Galveston, Texas" or "cycling shop near me," your store appears.
To make that happen, you'll need a solid local SEO plan.
Let's delve deeper into the topic of local SEO and see how it might benefit your company.
#1 The Benefits of Contracting Local SEO Optimization
Professional SEO services are typically required by small business owners in Toledo, OH, to get a competitive advantage in their local market. However, it is recommended to leave the process of local SEO optimization to the specialists unless you are familiar with the current SEO tactics in the online marketing arena. There are too many places where a poor SEO approach could spell doom for your business's marketing efforts.
When suitable SEO strategies are employed, however, a variety of desired benefits can be obtained, as follows:
In your local specialty market, you need a strong web presence.
Higher rankings in search engines
Content with authority that attracts visitors to your website
Website traffic is high.
More phone calls from potential clients
More customers are finding your store and coming in to shop.
Increased revenue from sales
Quite a bit of repeat business
Local community outreach that is more effective
Incentive-based marketing programs that are more effective.
#2 Why is it important for local small businesses to be ranked?
When it comes to creating a well-known local business, ranking is crucial. You will miss out on a lot of business if your business is on the internet and gets lost in the crowd.
Because local SEO will rank your business in search engines, making it visible to the demographic you want to target, you should use the best local SEO services. For example, your firm could rank for targeted local keywords with the help of local SEO, improving its exposure in the locally targeted area.
#3 Creating Leads
Lead generation is a challenge for many businesses, but it is more difficult for companies that rely on local SEO to grow their brand.
As previously stated, local SEO can help your business website rank higher on search engines, attracting more visitors – specifically those actively looking for what you have to offer.
You may convert your visitors into leads, who will then be converted into purchasers as they progress through the funnel with correct optimization.
According to this WebFX post (via HubSpot), SEO leads convert at around 8.5 times the rate of leads from other sources.
#4 Image of a company
When it comes to business success, your company's brand image is one of the most important factors. Every business wants to be the best in the market, and brand image can make your company stand out as the most unique or likable.
Local SEO can aid in the creation of a stunning brand image or online reputation for your company. Users will spend more time on your site or share your content if they feel connected to your brand. This will improve your website's statistics, which Google favors when ranking websites.
#5 Google My Business Ranking (GMB)
When it comes to local SEO, this is probably the most important factor. By now, you should have a general understanding of the significance of focusing on local SEO.
The main goal of local SEO is to increase your business's visibility in the local market, and your Google My Business (GMB) listing is an important part of that. The GMB listing is the first thing an internet user sees when searching for a product or service on the internet.
The GMB listing should be optimized as part of any local SEO campaign. This will improve your GMB's SERP ranking.
These are just a few advantages that a good local SEO package can provide for your company. It's now up to you to decide which local SEO tactics to use.
FAQ
What is local SEO?
The method of optimizing your website for a specific local location is known as local SEO. You want your web pages to rank for certain search queries by a local audience if you have a local business, such as a shop, restaurant, or agency. It's all about making sure people can find you both online and offline when it comes to optimizing your local business's website. Even if you don't have any guests in your building right now, you're still targeting a demographic that lives in the same region as you. As a result, you should focus on improving your web presence in that sector. Of course, you can perform some of this on your website, but there's so much more!
What local SEO strategies should you employ?
This is arguably the most difficult selection because numerous companies offer local SEO packages, and there is also a lot you can do yourself. However, if you want nothing but the best for your company, there are a few things you should keep in mind.
You should think about the cost of a local SEO package and the additional fees of listings and other factors. It is critical to obtain cost-effective rates because your small business wants to invest as little as possible while maximizing its return on investment. You can also recruit someone in-house, but this usually comes at a high cost in compensation and perks.
Local SEO can be either reasonable or quite expensive, depending on the amount of work you need to be done. Using a site like Yext to save money and ensure you have local listings on all the right directories is a good way to go.
Intertech Digital Ltd allows you to create a single company description, and submit it with all of the necessary information (contact information, business hours, etc.), and the platform will distribute it to hundreds of high-quality directories, boosting your local visibility instantaneously.
If you decide to work with a company, one thing to think about is the case studies of the company you'll be dealing with. You should always be aware of the company's previous clients' satisfaction levels. They should also be able to demonstrate the value they brought to other clients.