Why Should You Use Instagram Live to Promote Your Business?
Why is Instagram Live the place to be when it comes to your live selling strategy in 2021, with all of the different social media platforms out there?
First and foremost, Instagram makes it quite simple for your followers to locate your Instagram Live. When someone signs into Instagram for the first time, one of the first things they see is a live snapshot of everyone they're following. This means that going live on Instagram on a regular basis helps your audience remember you because your profile will be promoted more frequently.
Instagram Live also lets you break through the virtual barrier between you and your audience. For many consumers, the prospect of purchasing online with a company they've never done business with before and without being able to see or test the product in person is scary. You have the potential to humanize your brand by using Instagram Live. You can look your buyer in the eyes, establish trust, and demonstrate your products to assist them in making a purchase.
Not only that, but you can take it a step further by enlisting the support of volunteers to assist you during the demonstration. They don't even have to be in the same building or in the same room. You can send them a sample of your product and ask them to go live with you as they unbox and try it, allowing you to demonstrate a real-time reaction to your product.
Finally, Instagram Live is an excellent platform for nurturing and engaging with your audience long after they've discovered or purchased from you. It's not just about meeting new people; it's also about strengthening your brand's relationship with customers in a way that builds customer loyalty and keeps them coming back day after day.
Going live on Instagram, thankfully, does not necessitate a lot of planning and effort. However, there are a few things you can do to give your audience a better Instagram Live experience, increase the performance of your broadcasts, and encourage them to buy from you.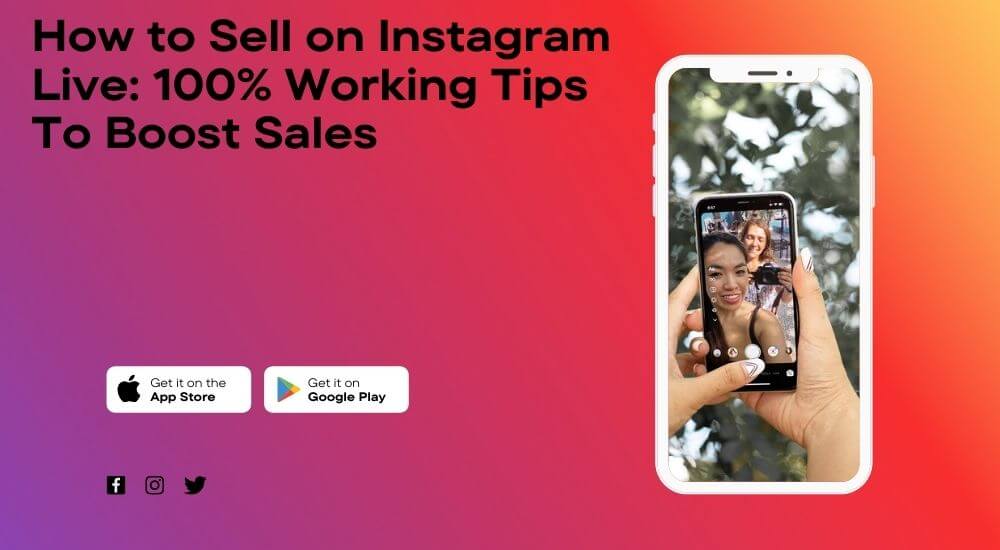 Select a Subject for Your Instagram Live Stream
Although you can go live on the spur of the moment and speak on just about any topic impromptu, having a procedure that you follow with each live stream helps build trust with your audience by offering a consistent experience. They know what to expect from your lives and will return to get the same experience over and over again.
A lot of your Instagram Live content, like other social media channels, will rely on leading with service and value for your audience. Consider your audience's experience as well as what your followers or customers expect from you. You're more likely to develop content that keeps your audience coming back if you prioritize the customer experience.
Create a background graphic to upload and display throughout your live stream as a pro tip. These images are simple to make in an image editor and can include important information to your viewers, such as the subject, discussion topics, or even your email address, to give readers an immediate indication of what the debate is about.
Promote Your Instagram Live Broadcast
It's crucial to publicize your Instagram live before it begins so that people know when to tune in. For example, you might create a story with the countdown sticker, which allows users to press to get a reminder about your live, and publish a feed item to let your audience know.
You don't have to rely on the initial notification that Instagram sends out as you go live, which is one of Instagram Live's superpowers. Yes, when people log in to Instagram, your profile will appear at the top of the home screen. However, there are a handful of additional ways to get Instagram to send out another live notification.
If you bring a co-host up on stage with you during an Instagram live, for example, Instagram will send a fresh notice to all of your followers informing them that you're going live with this co-host. In addition, Instagram will notify all of your co-followers host's that you'll be going live with them. As a result, this can be a terrific way to get a second or even third notification about your live broadcast sent out to individuals on Instagram, enticing them to tune in.
You can also use the built-in Q&A tool to receive questions from viewers while you're live. You can project the question onto the screen so that everyone can see it while you respond. You can also look through all of the questions and select which ones you want to respond to. The major advantage is that once you enable the Q&A feature, Instagram notifies your followers that you're holding a Q&A.
When you go Live, Provide a Brief Introduction.
Make a brief introduction to utilize during your live streams. It doesn't need to be professionally recorded, include music, or be edited in any way. Instead, it may be a phrase you say at the start of each day that introduces you, your company, and the topic of discussion or your purpose for coming live.
This introduction includes a few seconds of filler content to ensure that there is no time when Instagram isn't informing your followers. It also allows your fans to log in and catch up on your livestream without missing a beat.
Pin a post to encourage others to share it on social media.
It's helpful to have a post pinned to your profile so that it's easier to access during your Instagram live. Then you can urge your audience to share that post on their social media accounts. This will not only boost your reach by resulting in a mention in their stories, but it will also keep them engaged with you and your life.
Change Your Pinned Post and CTA in the Middle of the Game
During your Instagram live, you might want to change your pinned post and update your call to action (CTA) to something that would encourage your followers to take the next step with you. They've previously attended your live event, interacted with you, and responded to one of your calls to action. It may now be simple for them to take the following step.
You could, for example, show them your website or link and then tell them that you're going to pause so they can snap a screenshot of it. Perform a quick countdown and then smile while they capture screenshots.
Analyze Your Final CTA and Get a Sneak Peek at Your Next Instagram Live
Finally, you may wrap off your Instagram live by giving your followers a sneak peek at what's coming up on your next broadcast. This might involve informing them of a major announcement, revealing the guest or topic of next week's interview, or simply presenting a fun game or gift.
Make sure they know when your next Instagram live will be. You may also change your pinned post on your profile to highlight that next live and direct everyone to your profile so they can like, comment, and share it to their own stories as a reminder.