Many health-related websites receive a significant amount of their traffic from Google.
57% of patients start their search for a doctor's appointment online. Additionally, patients who use Google to find a healthcare center are serious about their quest.
However, getting a website ranked on Google is more complicated than that. Now, the online world has greatly expanded past that.
Today's patients look online for nearby physicians. This means that in order to significantly increase traffic to your clinic, you must rank for your local audience.
For all contemporary dental and medical practices who wish to take use of the potential of the internet and use it to increase their profitability, local SEO has become essential.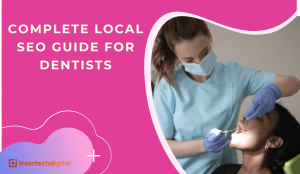 Why Should Dentists And Dentists Think About Local SEO?
Ironically, the internet is the first place most people look when they feel like seeing a doctor.
Someone wouldn't open the yellow pages and look in the "D" section of the directory for the nearest dentist if they felt the need to visit one. Instead, they will use Google or another search engine, enter a keyword such as "dentist near me," and then schedule an appointment with the dentist that they like the most.
The majority of patients today choose such strategy. And businesses that want to preserve or grow their foot traffic must make changes in accordance with this strategy in order to be among those that come up in response to localized and pertinent searches.
That is made possible through Local SEO.
You may diversify your traffic acquisition channels and be located in key locations where your consumers are looking for you by optimizing your Google My Business Profile to rank for relevant local searches.
Your patients will be aware of you as an option after you rank for pertinent local searches. And if additional conditions are satisfied, they are more likely to get in touch and schedule an appointment.
One method local SEO boosts your revenue is by increasing foot traffic to your medical office.
Additionally, it aids in the reduction of expensive web advertising, which lowers marketing expenses and ultimately boosts your bottom line.
Additionally, local SEO enables you to interact with your competitors on an equal footing by placing you where they are. Ranking alongside your rivals would increase your chances of capturing some of their potential patients, which is a million times preferable than losing all of your internet clients to them by failing to appear in local search results.
Increased patient appointments and increased revenue are the outcomes of local SEO for your practice. Let's discuss some effective tactics to get you started with local SEO.
The Importance of Local SEO Guide for Dentists
Your clinic can benefit from greater visibility in the neighborhood thanks to local SEO.
This is crucial because 72% of customers will go to a store within five miles of their area after looking for local companies on Google. That increases traffic to both your physical presence and website.
Local SEO is the Best SEO Technique for Dentists since it has less competition for rankings due to geographic factors and produces results faster than conventional SEO.
Research Local Dental Keywords and Optimize your Content
For your website to be seen by search engines like Google, conducting local keyword research is essential. It enables your dental office to comprehend the search terms customers use to find you on Google. Although it seems obvious, you'd be shocked at how many business owners guess these keywords and assume they already know how customers look for their services online. Using keywords helps Google understand the purpose of your website and what your business does. For instance, a local dentist in Bromley would want to use Google to drive traffic to their website by concentrating on certain keywords:
Cosmetic Dentist
Pediatric Dentist
Dental hygienist
Dental implants periodontist
Dental Clinic
Dental care Centre
Dental implants provider
Dental radiology
Begin by making a list:
Determine the search terms for which you already appear on page one.
Take note of the keyword positions of your competition.
use of phrases that are specific to patients
Select a target and associated keywords that are the most pertinent to your dental practice.
And when doing keyword research, keep seasonal tendencies in mind.
These words should and will be used frequently on a successful dentistry website, including the homepage, blogs, services page, and even reviews. Google examines every web page in its index to locate the most pertinent matches and displays them in its search results when someone types a query into the search box. Your website will appear in more relevant search results the more often you use the keywords that Google considers relevant on your page.
Create material for your patients that reflects the intent of the keyword after analyzing its purpose.
Don't limit your search to words like "dentist." With general or short-tail keywords, it can be difficult to determine whether users are looking for a definition, details about the dentistry industry, or a specific dental service.
Add some long-tail keywords like "Top Dentist in Miami, FL" to your mix since general dentistry terms are also more competitive. Compared to more general searches, long-tail keywords are better at revealing the searcher's purpose.
Use a good balance of related terms like "dental implants" and conversational keywords like "how much do dental implants cost?" throughout your content if you're aiming to rank for the phrase "dental implant services."
For an additional local SEO boost, don't forget to include local keywords along with the names of your town and any adjacent towns.
Create a Page for your 'Google My Business' Profile.
The source of local web presence is Google Business Profile, formerly Google My Business.
Small businesses can gain exposure and exhibit their offerings to potential customers with the aid of Google Business Profile. It provides all the resources you require to make an optimal, precise, and informative listing that aids in giving your patients the information they require about your clinic.
To take advantage of local SEO benefits, your practice must be listed on Google Business Profile.
Google occasionally generates company listings on GBP automatically. In such an instance, you would need to take ownership of that listing, validate it, and assure its accuracy in order to prevent it from scaring away potential patients by propagating false information.
Additionally, as one of LoudGrowth's clients had a 44% rise after adding the appointment booking link, adding the appointment booking link to your Google Business Profile might immediately increase your appointment bookings.
You must complete all the required fields for your listing to be properly optimized. Include details such as:
Name
Address
Phone (a local number if possible)
Hours
Category
Website
Description (mention your services and a unique selling point)
Optimize your Website for Local Search
Your website needs to be optimized for local search if you want to appear higher in Google searches and maps. Write stuff as well! Start using social media and blogging. You'll become more visible and credible in your community and become an active participant. Following are some tips for local search optimization for your website:
Create separate service pages for each of your dental services
Include a location page and local content
Have a unique URL, title tag, and meta description for each of your pages
Make your website mobile-friendly
Target those local keywords
Avoid duplicate content
Include engaging images, graphics, and videos on your pages
Streamline your site's navigation
Speed up your page load time
Citations in Online Directories
SEO still benefits from listing your practice in web directories. To establish a trustworthy online presence, it is crucial to pay attention to NAP consistency across all online listing sites. Inconsistencies, inaccuracies, and outdated information have the potential to affect your local SEO rankings. Potential patients will get frustrated, perplexed, and turned off by incorrect internet contact information before they even get in touch with your dental practice.
Dentist directories might include (but are not limited to):
1-800-Dentist
Super Dentists
On-Page Optimization
The content on those sites should be prepared with Google in mind by satisfying the precise keyword you are aiming to target after you have finished your keyword research to choose which of your services you will dedicate web pages too. By doing this, you can take advantage of Google's clever algorithms, which it employs to decide which sites are good enough to rank in its search results; this is known as "On-Page SEO" Correct on-page SEO will boost your website's ranks in addition to the user experience that visitors have with it.
Title tags: Using title tags is a crucial ranking component.
Meta description tags: Though not a ranking criteria, intriguing meta descriptions will encourage potential patients to click on your listing in the SERPs rather than one of your competitors.
Heading tags: Titles of blog entries and the subheadings of pages and posts are examples of header tags.
Schema: Using the schema described in element #2
New URLs: We advise contacting a reputable internet marketing firm first if you wish to employ keywords in existing URLs because changing your URLs incorrectly can have negative consequences.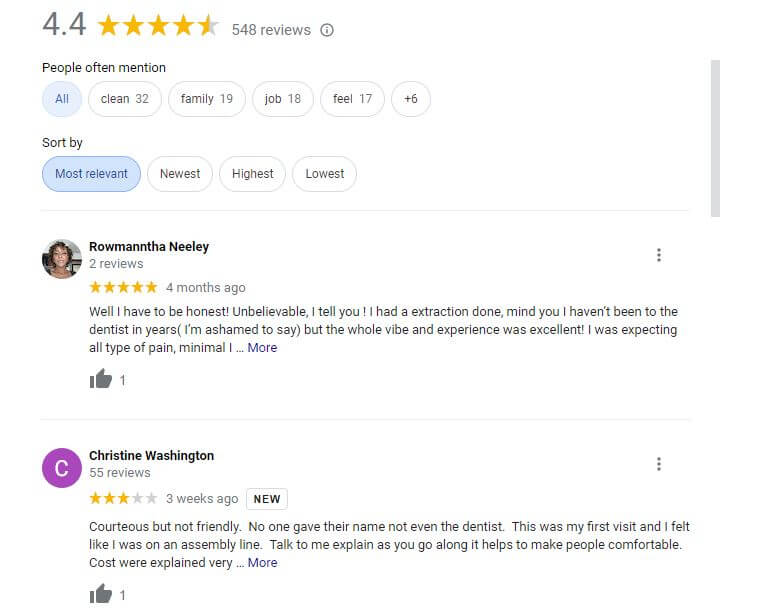 Collect Local Reviews
Patients want to be certain that the professional they are going to consult is competent in their field. They want the facility to meet their requirements and not have a negative reputation, but peace of mind is more vital. 98% of individuals read internet evaluations as a result of these factors.
As a result, the majority of consumers who choose healthcare providers believe they are influenced by online reviews.
Therefore, you must make sure that your GBP listing has a sufficient number of various evaluations to gain the trust of potential patients.
However, getting reviews is more difficult than you might expect. 74% of shoppers leave reviews online.
People love to give negative reviews, but they rarely make an effort to do the opposite.
Therefore, if you want to make money, you must pursue positive reviews.
In this situation, what you can do is ask each patient after their consultation to write comments on your GBP listing.
Remove any personally identifiable information that customers may have unintentionally disclosed in their reviews by going through all of them.
Additionally, while responding to favorable reviews is vital, you should also address the negative ones so that others can see that you value your patients' experiences and make an effort to improve them.
At One Address, Multiple Professional Listings
Given that your company is unique and has a unique Tax Identification Code, Google permits you to share an address with a number of other businesses that are in the same place.
Therefore, if your clinic is housed in an office building that also contains a number of other businesses, you are able to generate an independent listing.
However, it can be difficult to make a separate listing for each facility if you have a large hospital with a number of minor clinics.
To make a different listing for firms that operate from the same address, you need to have distinct businesses, each of which files its taxes separately and has its own phone lines.
Read More: HOW TO OPTIMIZE YOUR LOCAL SEARCH ENGINE OPTIMIZATION (SEO) FOR MOBILE DEVICE